August 20, 2019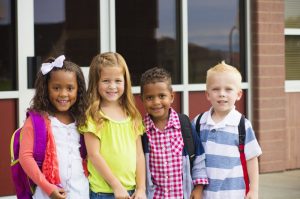 You and your child have just come back from your amazing vacation to the beach. Summer has seemed to fly by so quickly this year, and you realize that school is just around the corner. It's time to get your child ready for another academic year. Although you certainly should gather the necessary supplies and new clothing or shoes that your child needs, have you thought about preparing their smile? In this blog post from your dentist in North Andover, you'll learn five reasons why you should bring your child for a checkup before the new school year begins.
Boost Confidence
No matter your child's age, starting a new school year can be intimidating. With so many new faces and new things around them, your child could use as much confidence as they can get! Getting a checkup from a dentist can help them know that they have a clean, healthy smile, giving them more courage to let it show more often.
Use "Free Time"
One of the reasons we all love summertime is that we can finally relax and take it easy, but having a wide open schedule can have its downsides too. At some point, every child says, "I'm bored," during this time of year. Why not use their available free time to get their dental checkup and cleaning done? This routine appointment doesn't take long to complete, so it is worth doing before your child's schedule fills up again in the fall.
Avoid Missing School
You want your child to develop a love of learning and absorb as much knowledge as possible. For many, to do so requires uninterrupted time in a conducive environment. If you wait to take your child to see the dentist until after school starts, you'll have to pull them out of class, potentially slowing down their progression. If they are due for a checkup during the summer months, taking care of this appointment before school starts can give your child every opportunity to learn and excel.
Prevent Painful Cavities
Did you know that 20 percent of children between the ages of 5 and 11 have at least one untreated cavity? Tooth decay, especially in baby teeth, which have a thinner layer of enamel, can cause many problems for your child's development. The pain can prevent them from eating or speaking correctly or efficiently, and focusing can become a challenge, particularly when it comes to learning. In fact, studies have found that children who have poor oral health earn lower grades than those with good oral health. To protect your child from cavities, it's important to see the dentist regularly so that you can give them the best possible chance at success.
Get a Sports Mouthguard
If your child is active in sports at school, you may want to seriously consider getting them a custom mouthguard through your dentist to protect their teeth. Accidents can happen, even in non-contact sports such as soccer and basketball, but this mouthguard can give you and your child more peace of mind. Unlike store-bought mouthguards, custom ones fit comfortably and shouldn't interfere with breathing.
As your child enters another school year, you both can feel more prepared when they've had their dental checkup and cleaning. Take the time now, while you have some available time, to get this routine appointment done so that you can focus on helping your child have a great year. Contact your dentist for an appointment today!
About the Practice
Dr. E. Charles Beliveau and his team offer many kinds of dentistry services, including general care, cosmetic dentistry, and dental implants. They can also provide urgent care for dental emergency patients. Dr. Beliveau has two children of his own and enjoys helping his patients have a healthy smile. To schedule an appointment at his practice, call (978) 687-5900 or click here.
Comments Off

on 5 Reasons to See the Dentist before Going Back to School
No Comments
No comments yet.
RSS feed for comments on this post.
Sorry, the comment form is closed at this time.