Dental Crowns – North Andover, MA
Weakened or Broken Tooth? Let Us Help!
If you're self-conscious about cracked, broken, decayed, or worn teeth, we can bring back your healthy, natural-looking smile with dental crowns, also called caps. Designed to fit snugly and function as a healthy tooth, dental crowns in North Andover will protect your tooth from further damage and preserve the jaw's correct natural alignment. Because our dentist and team focus on the impact of oral health on the whole body, we recommend the use of metal-free materials, and we take the time to ensure your dental crown will benefit the overall form and function of your bite, ensuring maximum health and function. If you want to learn more about dental crowns or our holistic approach to dentistry, don't hesitate to call the dental office of E. Charles Beliveau, DDS to schedule an appointment to learn more about smile repair with dental crowns in North Andover, MA.
Why Choose E. Charles Beliveau, DDS for Dental Crowns?
One-Visit Restorations Available
Variety of Durable Materials
Fully Personalized Treatments
What are Dental Crowns?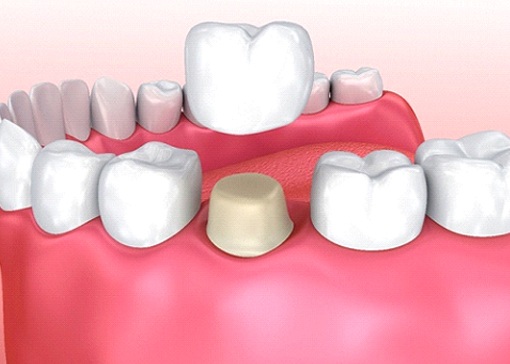 Dental crowns are among the most common types of restorative dental devices offered from dentists around the world. A crown can return structure, strength, and function to a tooth with extensive decay or damage. They are meant to act as a long-term solution for damaged teeth and prevent oral bacteria from reaching the inner tooth and developing an infection later. By repairing one damaged or decayed tooth with a dental crown, you may be improving the health of your smile and whole body by ensuring you're able to consume a healthy diet, avoiding additional damage when surrounding teeth absorb excess pressure, and preventing conditions like TMJ dysfunction that can occur due to uneven stress on the jaw joints.
What Materials are Dental Crowns Made Of?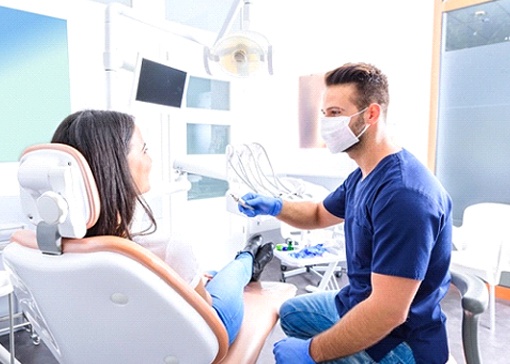 Dental crowns can be crafted using precious metal, porcelain pressed (or fused) to metal, all-porcelain, or zirconia crowns. To maintain a fully white smile and avoid exposure to metals, we recommend all-ceramic or zirconia crowns. Our precise color-matching system allows us to find the right shade of porcelain to blend with your natural tooth color. Porcelain crowns are also extremely durable and long lasting, and these benefits make them popular with dentists as well as patients. Zirconia cannot be as precisely matched to natural tooth color, but for larger, back teeth, it offers additional strength and minimized wear against opposing teeth. Additionally, both of these metal-free solutions are ideal to avoid unnecessary exposure of the body to heavy metals, which may have an adverse impact on overall health.
When are Dental Crowns Used?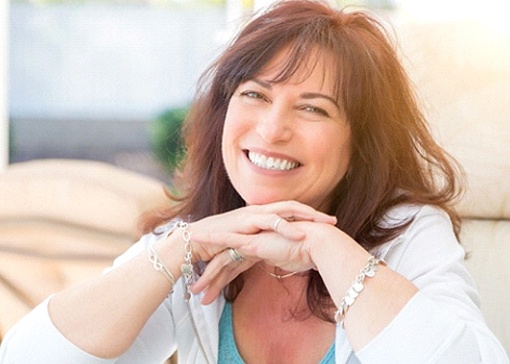 One of the reasons dental crowns are so common is because of their incredible versatility. Dental crowns are typically used when:
A dental filling is insufficient to cover a damaged tooth
A root canal treatment is performed (an opening in the crown is created to access the inner tooth)
Forced trauma is applied to the tooth (either through a sporting injury or bad fall)
The tooth is cosmetically compromised and treatments such as teeth whitening or dental bonding is ineffective
Teeth require replacement through implants or implant-retained fixed bridges
How are Dental Crowns Placed?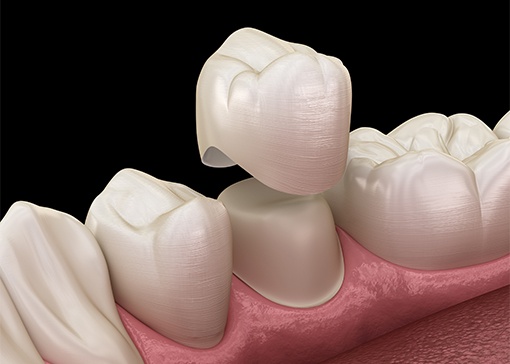 To start, your dentist cleans and prepares the tooth for crown placement. Then, the dentist captures bite impressions of the affected tooth using a putty-like material to capture your tooth exactly. This mold is sent to a dental lab so they can create a crown that fits over your tooth. Establishing a seal between your natural tooth and your mouth is crucial to preventing oral and overall health complications due to bacterial infections or further damage, and we will take the time to create a precise treatment plan for our dental lab to ensure an exact fit and seamless restoration.
Typically, we can design, fit, and place your crowns in just two short appointments. The first appointment involves taking impressions of your mouth while the second allows us to place and fine-tune the crown's shape as necessary. This appointment allows us to confirm that your bite is even and feels as natural as possible and that you will not experience changes to the way teeth fit together that can strain jaw joints and damage surrounding teeth.
Do I Need to Care for My Smile Differently?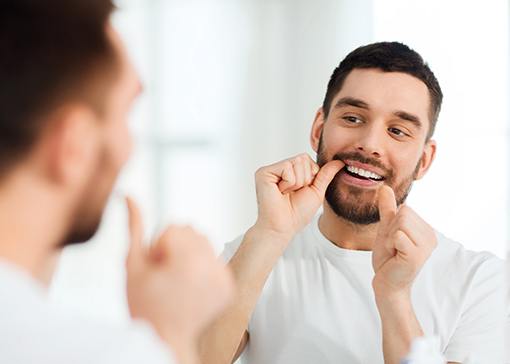 Once a crown is placed, you can care for it as you do your natural teeth. Conscientious brushing twice a day and daily flossing will protect the base of your crown from bacterial growth. Be sure to see us at least two times each year for professional cleanings and a preventive exam, too.
While the crown itself is not capable of developing decay like enamel, the natural tooth underneath can still be affected if enough plaque builds up on the surrounding tissue. Food can also get stuck underneath the crown, so make sure to pay close attention to this area during your at-home oral care routine.