Dental Implants – North Andover, MA
Sturdy Roots for New Teeth
Most adults will lose one or more teeth at some point in their life. Dentures and fixed bridges are both viable ways to fill in the empty spaces, but for many patients, a better solution is available. Dental implants from our North Andover, MA dentist are the best tooth replacement that modern dentistry has to offer. We invite you to learn more about this treatment and how it may be able to bring back the gorgeous, strong smile that you've been missing.
Why Choose E. Charles Beliveau, DDS for Dental Implants?
Long-Lasting Tooth Replacement Options
Detail-Oriented, Optimal Dental Care
Partnered with Skilled Implant Specialists
Benefits of Dental Implants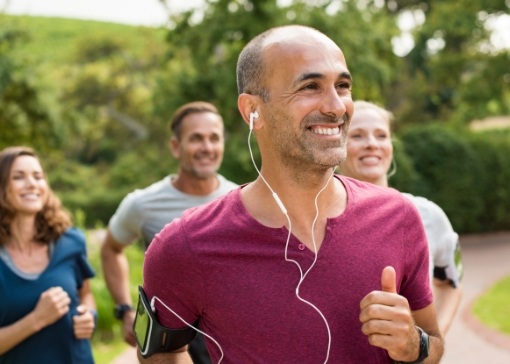 Dental implants offer a number of outstanding benefits:
Comprehensive tooth replacement. A dental implant in North Andover replaces the root of a missing tooth. A restoration (such as a crown) replaces the visible part of the tooth. Other treatment options replace only what's above the gum line.
Dental implants have the potential to last for the rest of your life if you care for them well.
A high success rate. Dental implants are successful in over 95 percent of cases.
Remarkable aesthetics. Implant restorations are almost indistinguishable from natural teeth.
Benefits for your remaining natural teeth. The implants procedure usually does not require that your remaining healthy teeth be modified or extracted.
A strong bite. Your implant-supported restorations will enable you to eat almost anything, whether it's a crunchy apple, a juicy steak, or your favorite movie-time snack.
Easy maintenance. Caring for dental implants is similar to caring for natural teeth.
Are Dental Implants Right for Me?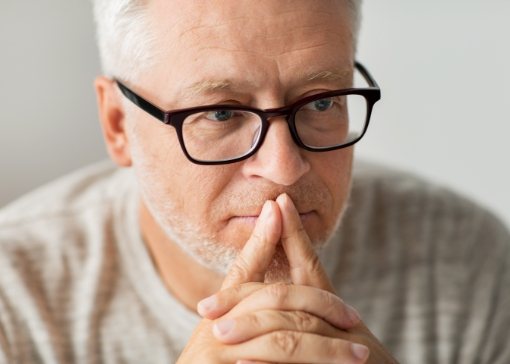 Whether you are missing one tooth, several teeth, or all of your teeth, dental implants may be an appropriate solution for you. When you visit Dr. Beliveau, your dentist in North Andover, he will recommend a treatment that is based on your unique circumstances.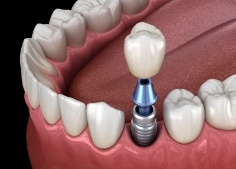 Are You Missing One Tooth?
To replace a single tooth, you will need a single dental implant. A custom-made crown goes on top of the implant to replace the top part of the tooth. This is among the most straightforward dental implant procedures and can prevent further tooth loss and other oral health complications.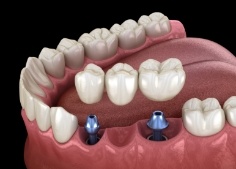 Are You Missing Multiple Teeth?
An implant-retained bridge, which typically consists of two implants and a bridge to go on top of them, may work well for you if you are missing two, three, or more teeth in a row. If your tooth loss has occurred at multiple locations throughout your mouth, an implant-retained partial denture may work better for you.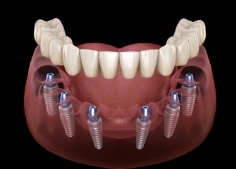 Are You Missing All Teeth?
It is possible to replace an entire arch of teeth with just four to six dental implants placed at strategic locations throughout the mouth. An implant-retained denture may be either removable or permanently fixed in place. In some cases, it is possible to retrofit a patient's existing dentures so they can snap onto the implants.
Understanding the Cost of Dental Implants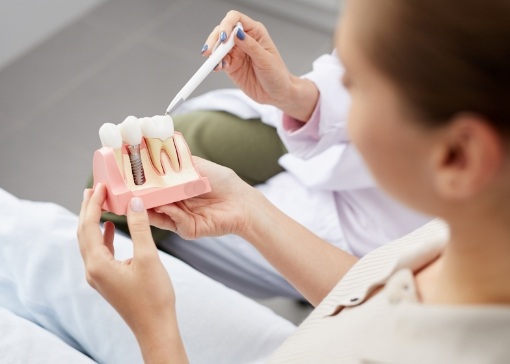 The total cost of your procedure will depend on a number of factors, including how many implants you need, whether you require any preliminary work, and the exact nature of your restoration. Also keep in mind that each stage of the process, including the placement surgery and your prosthetic teeth, comes with a separate price. Although implants may cost more than other treatment options, they are a worthwhile investment that can provide you with decades of beautiful, functional smiles.
Dental Implant Frequently Asked Questions
Dental implants in North Andover are an excellent investment in your oral health and your daily life because they can last for a lifetime. Although you've heard about their benefits, it is common to still have questions about the treatment. Dr. Beliveau takes the time to explain the process and addresses any concerns you have during your consultation. In the meantime, here are the answers to a few of the most common questions we receive to help you decide if dental implants are the right option for you.
Can I get dental implants if I have gum disease?
Gum disease is preventable; however, at least 50% of adults have a form of it. The high prevalence of the infection makes it a leading cause of tooth loss. If you've lost teeth from gum disease, you need a viable solution to fill the empty spaces in your smile.
Unfortunately, if the infection is active, you cannot get dental implants. Don't worry, you can become a candidate for them with periodontal therapy. After the infection is treated, you can replace your missing teeth with dental implants, but you may need additional procedures to repair any damage caused by the infection, like bone grafting.
Am I too old for dental implants?
Age is not necessarily a determining factor for your candidacy for dental implants. As long as you've finished growing, age has nothing to do with the success of the treatment. Instead, it's determined by other factors, such as your oral and general health, lifestyle habits, and certain medications you take. Dr. Beliveau performs an extensive consultation, which includes a CT scan, to ensure dental implants are right for you.
Do dental implants really feel natural?
It is natural to be concerned about the function of dental implants because you want a solution that feels natural. You will enjoy the next best thing to your real teeth both in terms of function and appearance.
The implant post stimulates your jawbone, causing the two to fuse to one another through a process called osseointegration. As a result, you will have a stable foundation for your replacement tooth. You will never need to worry about any slipping or irritation while reinstating as much as 70% of your natural biting force to enjoy your favorite foods again.
How long will my dental implants last?
New advancements to the procedure and materials used for dental implants now make them the most reliable tooth replacement option. They can last for decades with the right aftercare, so you should never need to worry about having them replaced. You can help to ensure your new smile lasts by maintaining your oral hygiene at home and visiting your dentist in North Andover at least twice a year. With a proactive approach, you can minimize the risk of implant failure.
Still have questions?
If you still have questions about dental implants, a member of your team is only a phone call away. Contact our dental office today to schedule your consultation.