Intraoral Cameras – North Andover, MA
Sharing Our Point of View with You
Many people aren't fully aware of what the status of their dental health actually is, largely due to the fact that they simply aren't able to see what the dentist sees. Intraoral cameras can change all of that.
During a routine examination, you can sit back in the dental chair while we use a digital camera. The camera will be covered with a disposable plastic sheath, which is how we prevent contamination. Meanwhile, we'll be taking multiple pictures of the inside of your mouth. Said images will be sent to a computer that will display them in full color on a TV screen that you'll be able to see comfortably from your position on the dental chair. This allows us to directly point to cavities, areas with gum disease, and other problems so that you know exactly what is going on and can participate in the process of choosing the treatments that are best for your smile.
The Benefits of Intraoral Cameras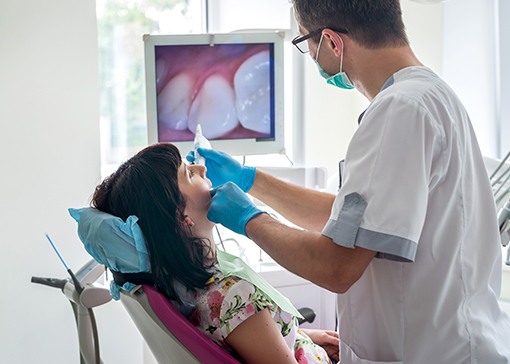 Intraoral cameras are just as much for our benefit as they are for yours. They can reveal details that we might have overlooked, potentially revealing cavities and gum disease in their earliest stages, giving us a chance to address these problems before they become truly severe. This is especially helpful for the numerous oral health problems that can start to develop without causing any pain. We can also point directly to the areas where you need to improve your oral hygiene routine and offer advice for improved brushing, flossing, or other techniques.