Dental Implant-Retained Dentures – North Andover, MA
Dentures That Stay in Place
If you have suffered extensive tooth loss, you may be thinking about getting traditional dentures. They can replace your teeth, restore your ability to chew, and provide pleasing aesthetics. However, they are neither as comfortable nor as strong as natural teeth. That's why Dr. Beliveau often recommends that patients consider dental implant-retained dentures in North Andover,MA instead. Your dental implant-supported denture may be able to give you a lifetime of confident, comfortable, and strong smiles.
Why Choose E. Charles Beliveau, DDS for Dental Implant-Retained Dentures?
Partnered with the Finest Implant Specialists
Fully Personalized, Lifelike Restorations
Dentist with Over 20 Years' Experience
How Do Dental Implant-Retained Dentures Work?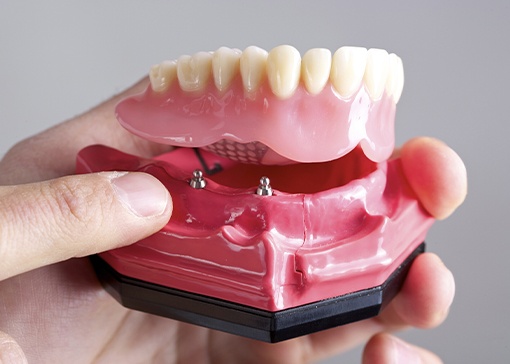 An implant-retained denture is similar to traditional dentures in North Andover in that it replaces an entire arch of teeth. However, while traditional dentures rely on suction or a mild dental adhesive to remain in place, an implant-retained prosthetic is anchored in the jawbone via small titanium cylinders that act as substitutes for the roots of missing teeth.
Some patients choose to receive a denture that is permanently attached to their implants. Others are eligible for overdentures, which are easy to snap onto and off the implants. In some cases, a traditional denture can be retrofitted to work as an overdenture.
Am I a Candidate for Dental Implant-Retained Dentures?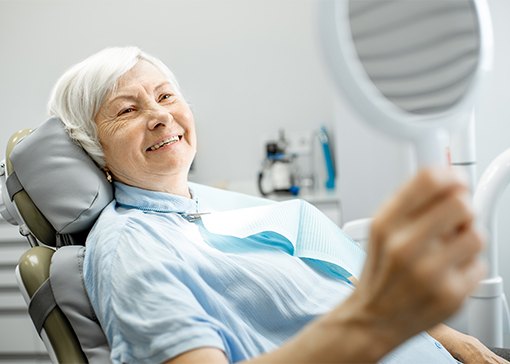 To find out for sure whether you are a candidate for implant-retained dentures, schedule a consultation with your dentist in North Andover. After Dr. Beliveau assesses your oral and overall health and talks to you about your goals and expectations, he'll recommend a treatment that he believes is best for your unique situation.
In general, good candidates for implant-retained dentures:
Are missing all or most of their teeth
Have adequate bone density and height to support dental implants
Are free of gum disease
Do not smoke
Have excellent oral hygiene habits
The Dental Implant-Retained Dentures Procedure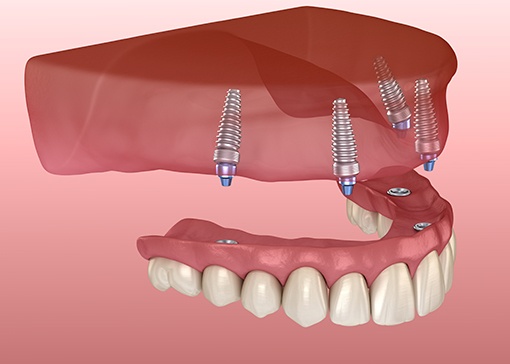 Following your initial consultation, you'll undergo an implant placement surgery. During the procedure, a number of dental implants (4 – 8, depending on your jaw's structure and the type of prosthetic you're receiving) will be placed throughout your jawbone. Then, the implants will bond with the bone around them over a period of several months. Once that has occurred, Dr. Beliveau will design your custom, permanent denture. A laboratory will create the denture, and you'll come back to Dr. Beliveau so he can attach it to your implants. Our team will give you some pointers on how to care for and use your new teeth, and then you can go and enjoy your gorgeous, strong new smile!
Benefits of Combining Dentures and Dental Implants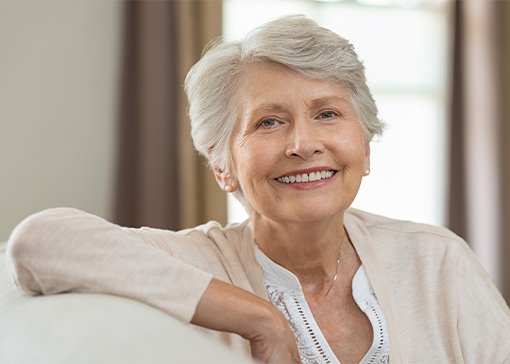 You can expect to enjoy a number of outstanding benefits from your new implant-supported denture:
The way traditional dentures fit changes over time due to bone deterioration in the jaw. Implants preserve the bone structure, so your implant-supported denture maintain its fit for decades.
The bite force that implants provide is almost as strong as that of natural teeth.
Unlike traditional dentures, implant-supported prosthetics will never click, pop, or slip out of place during eating and speaking.
Implant-supported dentures look practically identical to natural teeth; onlookers may never guess that your smile isn't the same one you've had since you were a child.