TMJ Therapy – North Andover, MA
Find Relief from Jaw Pain
The temporomandibular joints (TMJs) on either side of your head connect the lower jaw to the rest of the skull. They play a crucial role in allowing the free movement of your mouth when speaking or chewing. An injured or strained TMJ can lead to frequent jaw pain, headaches, and even occasional lockjaw. Dr. Beliveau can play a role in diagnosing and treating TMJ disorders so that they don't continue to disrupt your life; call us today if you've been suffering from jaw pain that you haven't been able to explain and experience relief with TMJ therapy in North Andover, MA.
Why Choose E. Charles Beliveau, DDS for TMJ Therapy?
Dentist with Over 20 Years of Experience
Fully Personalized, Optimal Dental Care
Emphasis on Close Attention to Detail
Diagnosis & Treatment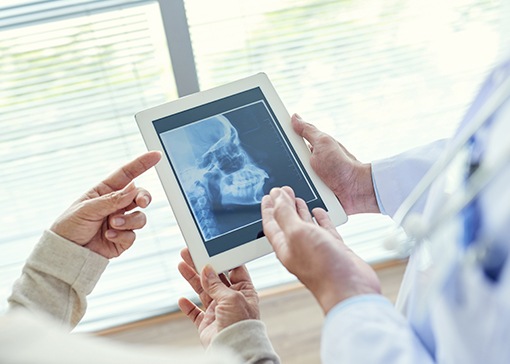 In order to diagnose a TMJ disorder, we'll need to go over the symptoms you've observed and examine your jaw. We'll be looking for symptoms such as:
Pain or tenderness in the jaw or around the ear
Difficulty or pain when chewing
Frequent headaches or facial pain that go unexplained
Periodic locking of the jaw joint that can make it hard for you to open or close your mouth
A clicking sound when you open your mouth or chew
Depending on the symptoms observed, we can start making a treatment plan that's personalized for your specific needs.