Teeth Whitening – North Andover, MA
Brightening Your Smile with a Professional Touch
A bold, bright smile looks youthful and exuberant. Unfortunately, your enamel tarnishes over the years making it appear dull and discolored. You can turn back the hands of time and give your smile a boost with teeth whitening in North Andover. Dr. Beliveau offers options for professional teeth whitening in North Andover, MA that are completely safe and highly effective to get your teeth several shades whiter while enjoying lasting results.
Why Choose E. Charles Beliveau, DDS for Teeth Whitening?
Quick, Reliable In-Office Whitening
Fully Personalized At-Home Kits
Overseen by Experienced Dentist
Causes of Tooth Discoloration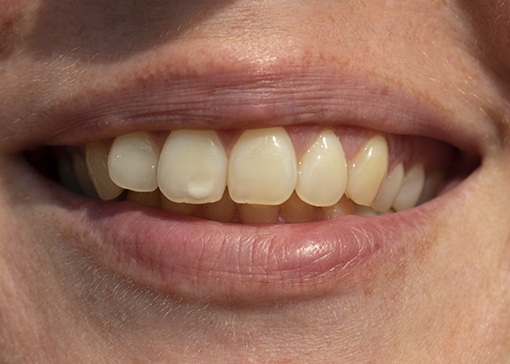 Your teeth are composed of three layers. The inner most layer is called the pulp, which is the nerve center for your tooth. It is protected by the dentin that is just beneath the enamel. Your enamel is the hard outer layer you see when you smile. As the years pass, your enamel naturally becomes thinner, making more of your yellowish dentin become visible. This gives your teeth a darker appearance. Besides aging, there are various other factors that can darken your enamel, such as:
Darkly pigmented foods and drinks.
Smoking or tobacco.
Poor oral hygiene habits.
Certain medications.
Options for Teeth Whitening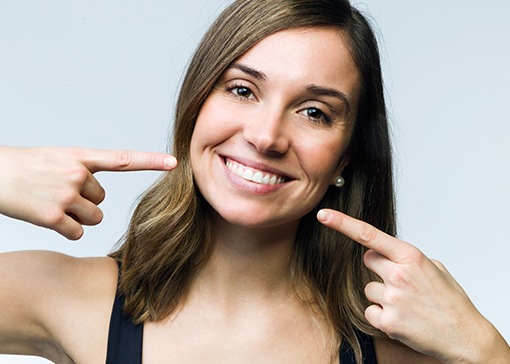 If you have tried over-the-counter bleaching systems, toothpastes, or strips and did not achieve the results you wanted, it is time to ask your cosmetic dentist in North Andover about professional whitening systems. Dr. Beliveau offers 2 convenient solutions to get your teeth several shades whiter.
In-Office Treatment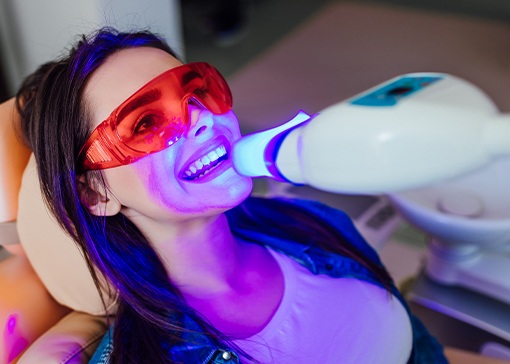 You can get your teeth as much as 8 shades whiter after just one appointment. A protective barrier is applied to your lips and cheeks to prevent any irritation to the soft tissues. A specially formulated whitening agent is put on your teeth, which is designed to help you achieve maximum results with minimal tooth sensitivity. A special light is used to activate the whitening agents in the gel. The light is used for about 15 minutes. On average, it is repeated 3 times to achieve your desired results.
At-Home Kit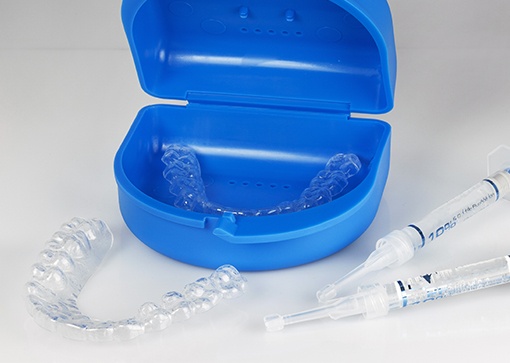 Now, you can enjoy in-office results from the comfort of your own home. We create custom-fit mouth trays to hold a potent bleaching gel against your tooth enamel. This ensures the consistent distribution of the whitening agent for even results. You wear the gel-lined trays for a few hours every evening for the next 2 weeks. As the days pass, you will see your teeth becoming noticeably whiter. You can also use the trays to help maintain your results after your initial whitening treatment.
Maintaining Your Smile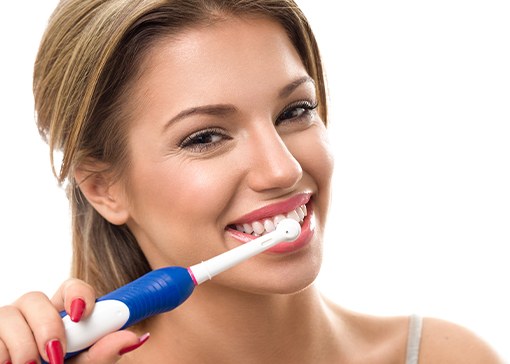 You can enjoy a lasting bright smile by caring for your teeth properly. It is best to:
Brush your teeth twice a day using a soft-bristled toothbrush and fluoride toothpaste.
Floss between each tooth every night.
Avoid stain-causing foods.
Do not smoke or use tobacco.
Visit your dentist twice a year for a cleaning and checkup.
If you are ready to get the dazzling white smile you want, it is time to see if professional teeth whitening is right for you. Contact our dental office today to schedule your consultation. We look forward to rejuvenating your smile.
Teeth Whitening Frequently Asked Questions
Professional teeth whitening from your dentist is a perfect treatment if you're looking to turn back the clock on your smile. However, you may have a few questions before undergoing the procedure. There's no need to worry. We'll address all of your concerns at your consultation. In the meantime, though, here are the answers to some of the questions we get asked the most often about teeth whitening.
Does Teeth Whitening Cause Sensitivity?
You may have tried over-the-counter whitening strips or gels only to develop an extreme sensitivity to hot and cold foods and drinks. Many store-bought whitening products contain ingredients that can erode the enamel of your teeth, exposing the sensitive dentin underneath it.
Our whitening treatment, on the other hand, is specially created to minimize tooth sensitivity. If for some reason you do experience any dental discomfort, it should subside within a day or two. Until then, avoid hot and cold foods and drinks, or take an over-the-counter pain reliever as instructed on the label.
I Have a Dental Restoration. Can I Still Get Teeth Whitening?
Unfortunately, dental restorations like porcelain veneers, crowns, and bridges will not be affected by even professional teeth whitening. They are not as porous as tooth enamel, so they will not absorb the bleaching gel in the same way that your natural teeth will. In fact, the whitening agent can even temporarily weaken the bond between your restoration and your tooth.
If you notice your restoration looks a little out of place after your whitening treatment, we can always replace it with a fresh one to match the new shade of your pearly whites and make your smile look completely natural.
How Much Does Professional Teeth Whitening Cost?
There isn't one fixed price of teeth whitening because the overall cost is determined by a few different factors. During your initial consultation, we'll go over these factors with you and lay out a cost estimate. In addition to the traditional methods of payment, we also partner with CareCredit. With this plan, you're given the funds you need to finance your treatment and pay it back in manageable chunks with very low interest. No matter your financial situation, our team will help you pay for the smile you want without breaking the bank.
Will My Insurance Cover the Cost of Teeth Whitening?
Because teeth whitening is an elective procedure, it's very rare for dental insurance carriers to provide coverage for it. However, we will be more than happy to work with your insurance carrier to maximize your benefits and minimize the amount you'll have to pay out of pocket.