March 27, 2021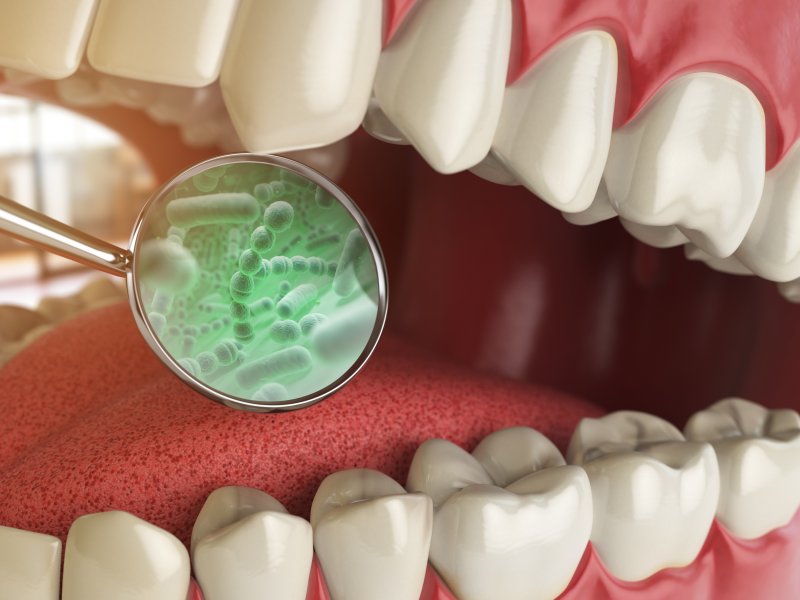 Have you ever thought about all the bacteria that are living around you? They are so small, and you can't see them, so it is easy to forget that they're there. Many of us try not to think about how many microorganisms are around us at all times. However, the truth is that they are everywhere, even in our mouths. You don't feel them or taste them, but there are many different types of oral bacteria that you carry around with you every day. Continue reading to learn how many there are and how to keep harmful bacteria under control.
How Many Bacteria Are in your Mouth?
It is difficult to say exactly how many bacteria are in your mouth, but there have been over 700 different strains of bacteria detected in human mouths. However, most people only have anywhere from 34 to 72 different varieties. It is estimated that your mouth contains approximately 20 billion oral microbes overall. Some species of bacteria can double their numbers every 20 minutes in ideal conditions. Some bacteria are even beneficial, like probiotics. These are the bacteria that help you to digest your food properly. There are even certain types of bacteria that help to prevent your teeth and gums from harm.
What Types of Bacteria Are Harmful?
There are two types of bacteria that are particularly harmful in the mouth. The most common one that is found is called Streptococcus mutans. This type of bacteria is the one that feeds off of the sugars and starches that you eat. This normally wouldn't be a problem, but they produce acid as a by-product. This is what weakens the protective enamel of your teeth and ultimately leads to tooth decay.
The other harmful bacteria that live in your mouth are called Porphyromonas gingivalis. If you have excellent oral health, chances are that you won't be finding any of these bacteria. People who do have this bacteria present are likely suffering from periodontitis, a serious stage of gum disease that can lead to tooth loss.
How Do You Manage Oral Bacteria?
It is normal to have a balance of bacteria in your mouth, but having large quantities of harmful bacteria can lead to oral health issues. Be sure that you are brushing twice and flossing at least once every day in order to keep your mouth clean. Some other great steps include using a mouth rinse, seeing your dentist for regular cleanings and checkups, and limiting the number of sugary and starchy foods you have in your diet.
Bacteria play a huge role in your oral health, but it is important to keep some of them under control. With proper oral hygiene practices, you can maintain excellent dental health!
About the Author
Dr. E. Charles Beliveau is an experienced dentist who has been practicing for over 30 years. He earned his dental doctorate form the University of Maryland School of Dentistry and is committed to continuing his education. He is currently a member of multiple prestigious organizations, including the American Dental Association and Massachusetts Dental Society. For more information or to schedule an appointment at his office in North Andover, visit his website or call (978) 687-5900.
Comments Off

on How Many Bacteria Are in Your Mouth?
No Comments
No comments yet.
RSS feed for comments on this post.
Sorry, the comment form is closed at this time.