February 4, 2021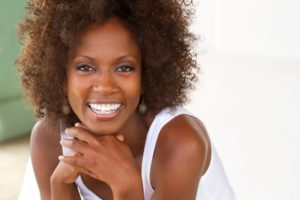 If you have slightly crooked, cracked, gapped or stained teeth, you can have your smile upgraded with a set of porcelain veneers. The cosmetic fixtures are highly effective at creating a natural looking and appealing smile because of the advanced technology that goes into the process. As you continue reading, learn about the breakthroughs that make this such an effective method of aesthetic dentistry!
What are Porcelain Veneers?
Porcelain veneers are thin wafers that are designed to match the color, size and shape of the teeth in your smile line. They are bonded to the front-facing teeth to hide any imperfections, but how is this possible?
High-Tech Porcelain Veneers
The amazing results produced by porcelain veneers are made possible through a perfect combination of dentist artistry, lab technicians' proficiency and the technological advancements in cosmetic dentistry. Here are some of the components that are involved:
Digital photography – A key step in creating a natural looking set of veneers that blend with the other teeth is to capture detailed initial images. The digital photos electronically transfer key information about the existing teeth's shape, size, length and position to a dental lab so technicians can create veneers that perfectly match.
Computer imaging – Another example of the advanced dental technology now available is computer imaging software. It offers patients a glimpse of the future by showing them what they'll look like after treatment concludes. This is accomplished by altering the current smile photo to reflect the expected changes, and it affords the opportunity to make any necessary alterations in the plan.
Tryout veneers – In addition to getting a preview of their new smile, patients are fitted with provisional veneers to wear while they're final fixtures are being fabricated. Made from composite materials that temporarily bond to the teeth, the veneers protect the exposed material in an attractive manner.
Taking the First Step
The porcelain veneers process usually takes two to three appointments and up to three weeks to complete, but it all starts with visiting a cosmetic dentist in North Andover for a consultation. Before making a decision and moving forward with the preliminary work, you'll be able to learn more about the different facets of the procedure. This will also be your chance to ask any questions you may have. By taking this initial step, you can reap the benefits of the technological breakthroughs in cosmetic dentistry and experience the euphoria of achieving the smile of your dreams!
About the Author
Dr. Charles A. Beliveau earned his dental degree from the University of Maryland School of Dentistry. He would later go on to receive valuable mentorship from Dr. Peter E. Dawson, the Pankey Institute and Dr. Frank Spear. With over 30 years of experience, Dr. Beliveau still manages to stay abreast of the latest advancements in dentistry to help his patients achieve healthy and attractive smiles. He places porcelain veneers at his private practice, and he can be reached for more information or to schedule a visit through his website.
Comments Off

on The Dental Technology Used to Create Flawless Veneers
No Comments
No comments yet.
RSS feed for comments on this post.
Sorry, the comment form is closed at this time.