Cost of Dental Implants – North Andover, MA
Putting a Price on New Teeth
The cost of dental implants in North Andover tend to be more expensive than other replacements, but we offer them because their advantages far outweigh their price. Dental implants can bring you a unique set of benefits that you simply can't get with other replacements. If you're considering this option, contact our dental office to schedule a consultation with Dr. E. Charles Beliveau to discuss the cost of dental implants in North Andover, MA. He will carefully examine your smile and discuss your goals to determine whether or not dental implants are a good option for you.
Types of Dental Implants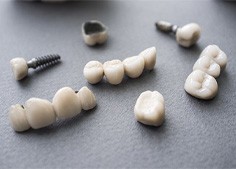 The dental implant posts themselves make up the bulk of the cost of this tooth replacement. There are many different types of materials used from a wide range of manufactures. While the US does manufacture dental implants, many titanium implants come from Switzerland. The size, material, and maker are all variables that influence the price of your dental implants.
What are the Stages of Dental Implant Treatment?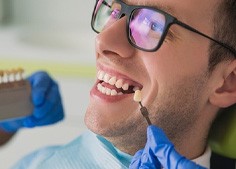 The stages of your dental implant treatment will also affect the cost. Many patients must receive preliminary treatments like extractions or bone grafting before implants can be placed, which can add cost to the procedure.
Following these preparatory treatments, Dr. Beliveau will surgically place your implants in your jawbone. Then, you'll need 3 to 4 months to let your implants successfully fuse to your jaw. Once your implants are permanently integrated into your jaw, we can restore them with dental crowns, bridges, or dentures. The type of restoration that you need will depend on the number of teeth you're missing.
Then, you'll come back into our dental office, where we will take images and impressions of your smile to create your custom restorations. Once these are fabricated, Dr. Beliveau will permanently restore your smile to its full beauty and function. Each of these stages of the dental implant process go into the price of your treatment.
Are Dental Implants Worth the Investment?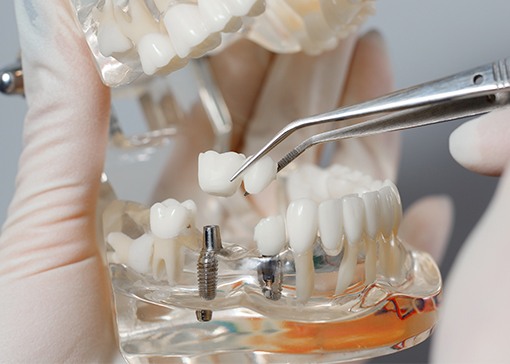 We know that this is a significant investment, but it's a decision that can dramatically improve your quality of life in these ways:
Stability: No matter what type of restoration you need, dental implants will be able to provide you with support you can count on. This means eating all of your favorite foods and speaking with confidence.
Health: Dental implants provide your jawbone with the stimulation it needs to stay strong and healthy—the only tooth replacement that offers this health benefit.
Permanence: Dental implants can last a lifetime with proper care, making them the longest lasting tooth replacement available.
Does My Dental Insurance Cover Dental Implants?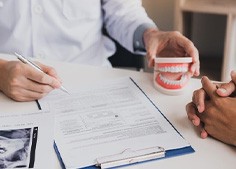 Unfortunately, most dental insurance plans do not cover dental implants. However, they may cover some of the costs associated with the procedure. One of our friendly and knowledgeable staff members will look over your insurance policy to see if there is any coverage that you may be able to receive. Each insurance plan varies, so we do our best to provide you with the most affordable and quality dentistry possible.
Does it sound like dental implants are right for you? Contact our dental office to get started on a healthy and complete set of teeth.