March 2, 2020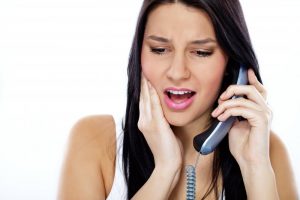 A surefire way to ruin an otherwise nice day is for a dental emergency to suddenly emerge. In addition to disrupting your normal way of life, it can also cause some other serious problems. How can you recognize the symptoms of the developing issue, soon, so you can get the help you need and prevent any unnecessary suffering? Continue reading to get some helpful tips from a local dentist.
What is Considered a Dental Emergency?
Any situation that is a deviation from your natural dental function and results in uncontrollable tissue bleeding, severe pain or infection, a dislodged or loose tooth, or damaged or loss dental fixture, is considered a dental emergency. No matter what type of issue you may be facing, it's important that you do the following:
Stay Calm – Dental emergencies can be unnerving experiences, but as best as possible, you should remain calm so you can fully assess the situation.
Contact an Emergency Dentist – After figuring out what has happened, the next step is to reach out to an emergency dentist and let a staff member know what has happened. Therefore, you can schedule a visit to receive the treatment you need.
Common Dental Emergencies
Here are some of the more common types of dental emergencies patients encounter:
Knocked Out Tooth
Once your permanent teeth emerge, losing a tooth is no longer a fun-filled event. If this happens to you, carefully grab the tooth by the crown, while being sure not to disturb any attached tissue. Rinse the tooth under cool water and attempt to reinsert it. If you're unsuccessful, store it in either cool water (with salt added) or milk until you can visit a dentist.
Lost Crown
A lost crown is a serious issue, as it leaves your tooth exposed to bacteria and debris entering to cause a severe infection. After rinsing and drying your tooth, you can reattach the crown using toothpaste or denture adhesive, and avoid using it until you're treated.
Broken Tooth
If any part of a tooth breaks off, rinse it under cool water and store it in a baggy. To reduce any pain and swelling, you can apply a cold compress.
Toothache
Untreated oral bacteria are usually the cause of a toothache. To temporarily slow down the advancement of the decay, you can rinse your mouth with a salt-water solution. You can also take ibuprofen to momentarily ease the pain and apply ice for any swelling.
Cut Lip or Tongue
Typically, applying a cotton gauze with slight pressure will help to stop the bleeding from a minor soft tissue cut. However, if the bleeding persists for more than 10 minutes, then you should immediately head to the emergency room.
Broken Jaw
If you've taken a hard fall or received a blow to the face and suspect you have a broken jaw, you shouldn't waste any time heading to the emergency room. It's also important that you immobilize your jaw. One way to go about this is to tie a soft piece of material around your head.
Getting Your Life Back on Track
The main goal of emergency dentistry is to address the immediate threat so that you can return to living a normal life. By recognizing the warning signs earlier, taking the appropriate actions and seeking the help of a local emergency dentist, you can recover and get back on your feet!
About the Author
Dr. Charles Beliveau is a graduate of the University of Maryland School of Dentistry. Throughout his career, he has remained an avid learner, immersing himself in hours of continuing education. Thus, Dr. Beliveau is able to provide comprehensive care to meet all his patients needs. He helps them recover from dental trauma at his private practice, and he can be reached for more information through his website.
Comments Off

on What are the Warning Signs That I'm Having a Dental Emergency?
No Comments
No comments yet.
RSS feed for comments on this post.
Sorry, the comment form is closed at this time.