October 22, 2020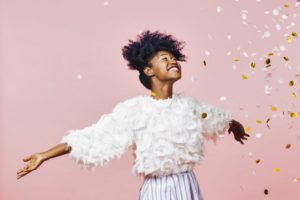 Have you ever been so excited to get healthy in the new year but then given up on your resolution because it was too hard? You're not alone. In fact, an estimated 80% of New Year's resolutions don't make it past February. If you're looking to make 2021 the year you get healthy, why not start with an attainable goal, like your oral health? Try these four simple New Year's resolutions for a healthy smile!
1. Schedule Your Next Dental Visit
Start the year off right by seeing your dentist for a checkup and cleaning. Even if your teeth feel perfectly fine, these appointments are still important. Your dentist can spot small problems before they snowball into painful issues that are expensive to treat. Getting into the habit of visiting your dentist twice a year can benefit your smile and your wallet in the long run.
2. Learn to Love Flossing
Flossing isn't exactly everyone's favorite pastime, but it's a crucial step in preventing cavities and gum disease. If you have a hard time making daily flossing into a routine, try these tips:
Purchase floss with a fun flavor, like cinnamon or bacon.
Store your floss somewhere you'll see it whenever you brush your teeth, like in front of the toothbrush holder.
Begin by flossing one tooth a day. Then, work your way up to your whole smile as the habit becomes more natural.
Use a water flosser or interdental brush if you're having trouble with traditional floss.
3. Start Snacking Smarter
Cutting back on sugary foods is great for your smile in addition to your overall health. However, numerous studies have shown that simply quitting these treats cold turkey isn't successful in the long term. Instead, gradually swap them out for more mouth-healthy snacks. Foods that are high in phosphorous, vitamin C, and calcium encourage strong teeth and healthy gums. So, in 2021, incorporate more cheese, nuts, and broccoli into your diet!
4. Break Bad Chewing Habits
The start of a new year is the perfect opportunity to finally kick bad habits like chewing on pen tips, fingernails, ice, or other hard items. They harm your teeth by wearing down its protective outer layer of enamel, making them weaker and more vulnerable to fractures. There are several things you can do to break these often-unconscious habits, such as:
Popping in a piece of sugar-free gum instead
Relaxing your mind with meditation
Playing with fidget toys
Getting the healthy smile that you've always wanted is a goal that's well within your grasp. By committing to these easy New Year's resolutions, you can set yourself up for a lifetime of great oral health.
About the Author
Dr. E. Charles Beliveau attended the University of Maryland School of Dentistry, the oldest dental program in the world. He now practices in North Andover, MA. He considers himself lucky to have trained with some of the "Masters of Dentistry," such as Dr. Peter E. Dawson and Dr. Frank Spear. These experts have influenced Dr. Beliveau's preventive approach to dentistry. To schedule your first checkup and cleaning of 2021, contact his office by clicking here.
Comments Off

on 4 Easy New Year's Resolutions for a Healthy Smile in 2021
No Comments
No comments yet.
RSS feed for comments on this post.
Sorry, the comment form is closed at this time.