November 13, 2020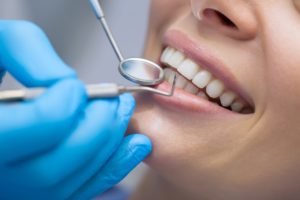 Your toothbrush and floss are crucial to keeping your teeth and gums healthy, but did you know routine dental care is equally important? The American Dental Association recommends everyone has a cleaning and checkup at least twice a year; however, only 1 in 5 adults have visited their dentist since the pandemic. Although you're spending more time at home, skipping a dental cleaning in North Andover can leave a lasting mark on your smile. Here are 4 reasons you don't want to put off your routine visit.

1. Higher Dental Expenses
Believe it or not, visiting your dentist actually saves money. A routine cleaning removes harmful accumulations that increase your risk of tooth decay and gum disease. In addition, a checkup allows your dentist to monitor your oral health to quickly detect issues before they worsen. As a result. This reduces the likeliness of needing a costly treatment down the road. Research shows every $1 spent on prevention can save you as much as $50 on restorative services.
2. Increased Risk of Dental Emergencies
No one ever expects a dental emergency to happen to them, but 1 in 6 Americans will face this situation annually. Although you can't fully stop one from occurring, visiting your dentist regularly significantly lowers your risk of needing urgent dental care. Semi-annual appointments allow your dentist to find common issues that can lead to a big problem down the road, like a cavity, fracture, or gum disease.
3. Lose Dental Coverage
If you have private dental insurance, you have access to 100% coverage for preventive services. By paying your monthly premium, you can get the cleanings and checkups you need to invest in a healthy smile. In addition, your policy can be used to help offset the cost of common treatments. Unfortunately, your policy doesn't last forever. At the end of the year, your benefits will expire. You aren't reimbursed for anything you don't use, and nothing will carry over into the new year. Skipping even 1 dental appointment could cause you to throw hundreds of dollars down the drain.
4. General Health Issues
Your oral and general health are entwined. Research shows certain dental problems can harm your general health, like gum disease. The infection is proven to increase your risk of cardiovascular disease, respiratory infections, and other medical complications. Investing in your dental health not only reduces your oral health expenses but also your medical costs.
Visit Your Dentist Today
If you still have your second hygiene appointment for the year, don't wait until it's too late to see your dentist. Even if it hasn't been 6 months, you can still see your dentist before your benefits expire.
About Dr. E. Charles Beliveau
Dr. Beliveau earned his dental degree at the University of Maryland School of Dentistry. He has trained with some of the "Masters of Dentistry" to deliver world-class services. If you need an appointment before the end of the year, contact our office today to schedule your cleaning and checkup.
Comments Off

on What Happens If You Skip a Dental Cleaning?
No Comments
No comments yet.
RSS feed for comments on this post.
Sorry, the comment form is closed at this time.