December 3, 2020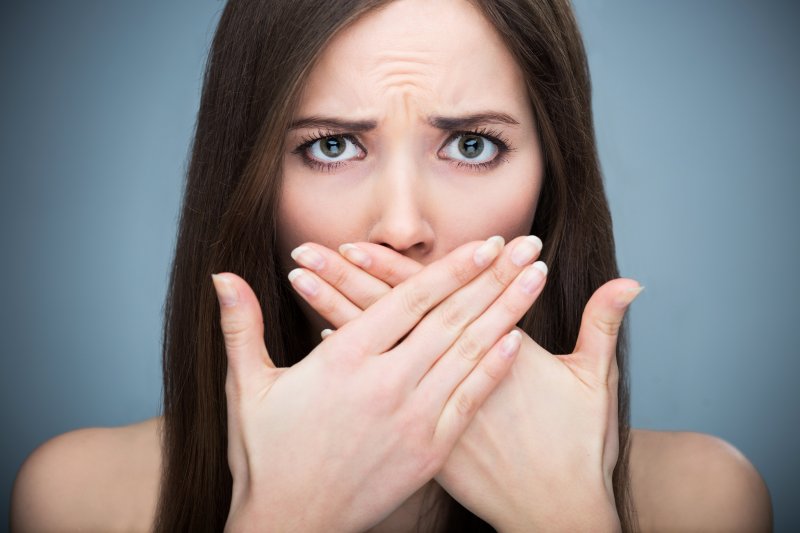 Are you suffering from bad breath? You're not alone. More than 80 million Americans struggle with chronic halitosis, also known as bad breath. This can be embarrassing, and it is difficult to know how to control it. Fortunately, there are quite a few things you can do to prevent it from occurring and stopping it in its tracks. Continue reading to learn a few tips from your dentist so you can say goodbye to halitosis for good!
Brush Twice Daily
Most of the time, bad breath is the result of bacteria in the mouth putting off an unpleasant odor. By brushing your teeth twice a day, you are removing food debris and bacteria filled plaque that is likely responsible for your bad breath. If you want to take an extra step, try brushing an additional time with baking soda. This will reduce the acidity in your mouth and make it more difficult for bacteria to grow.
Floss Every Day
Brushing is effective, but your toothbrush cannot reach certain areas in your mouth. That's why flossing is so important. It helps to remove food particles, plaque, and bacteria from between the teeth and beneath the gumline.
Clean Your Tongue
Residue builds up between your tastebuds and folds in the tongue. It is a good idea to invest in an inexpensive tool called a tongue scraper to clean your tongue. If you'd prefer, you could also give your tongue a scrub with your toothbrush.
Use Mouthwash
If you need a quick fix for bad breath, mouthwash is an easy solution. However, keep in mind that if you have chronic halitosis, mouth rinses will only mask the odor for a short period of time. Sometimes, it can even irritate the oral tissue. Ask your dentist which type of mouthwash would work best for you.
Drink Water
You need to be well hydrated if you want to freshen your breath. Water helps to wash away food particles and bacteria. It also helps to prevent the development of dry mouth. If you have chronic dry mouth as a result of medications that you take, talk to your doctor. There may be an alternative solution.
Have Sugarless Gum
Not only does sugar-free gum taste good, but it also helps to stimulate saliva production in the mouth. Other foods that do this are celery, apples, pears, and carrots. Having these types of snacks also helps to alleviate bad breath caused by hunger or fasting.
Quit Smoking
If you needed one more reason to quit, tobacco products are known to cause bad breath. In addition to drying out your mouth, they also leave behind a smell that lingers even after brushing your teeth. Talk to your doctor, friends, and family about the best ways that you can quit.
See Your Dentist
When you visit your dentist, they will be able to rule out any underlying conditions that could be contributing to halitosis. If they because it is due to a systematic source, they may refer you to a family physician. They will also be able to give you the best possible advice on how to put an end to it. Patients struggle with halitosis all the time, so there is no reason to be embarrassed.
You don't need to put up with bad breath forever. By speaking to your dentist and using some of the tips above, you will be on your way towards a fresher smile.
About the Author
Dr. E. Charles Beliveau is an experienced dentist who has been practice for over three decades. He earned his dental degree from the University of Maryland School of Dentistry and is committed to continuing education to keep his skills sharp. If you have halitosis, Dr. Beliveau would be happy to help. For more information or to schedule an appointment, visit his website or call (978) 687-5900.
Comments Off

on 8 Ways to Eliminate Bad Breath
No Comments
No comments yet.
RSS feed for comments on this post.
Sorry, the comment form is closed at this time.